SAFC - Forever In Our Hearts Group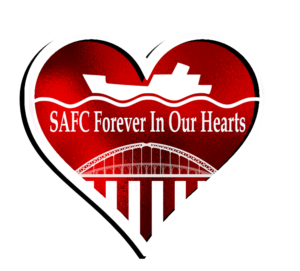 Losing a loved one is never easy, but finding comfort and support in a community of people who understand your pain can make the journey a little less lonely. Our group is dedicated to helping you remember and celebrate the lives of your loved ones who were also passionate Sunderland fans. We understand the unique bond that comes with being a part of this football club, and we want to provide a safe and supportive space for you to share your stories, memories, and grief. We hope that by coming together as a community, we can find comfort and healing in our shared experiences.
Sharing stories and memories can help keep the memory of loved ones alive and create a sense of inclusion for Sunderland fans. By sharing stories and memories, we can keep the spirit of our loved ones alive and continue to feel their presence in our lives. It also allows us to connect with others who have gone through a similar experience, which can be comforting and healing. In the case of Sunderland fans, sharing stories and memories about their loved ones who were also passionate about the football club can help keep their memory alive within the community and allow others to feel connected to them through their shared love of the club.
We plan to partner with local organisations and projects to deliver monthly activities and workshops that aim to promote engagement and foster a sense of community. And don't worry if you just feel like chatting – there will be plenty of tea and coffee available too! We'll be sharing monthly topics and any updates or changes to dates on our Facebook page, so make sure to keep an eye out for those.
It's important to remember that our group is a safe and respectful space for everyone to share their stories and memories. In order to participate, it's essential that everyone treats each other with kindness and respect. This means refraining from any hurtful or insensitive comments and being mindful of the emotions of others. By creating a supportive environment, we can all feel comfortable sharing our experiences and finding solace in one another.
Our members voted for the name of the group which we believe genuinely represents the passion and dedication people have in their hearts for Sunderland.
SAFC Forever In Our Hearts was the clear winner throughout the voting process and we believe it captures our love for our team and our commitment to supporting them not only in life but for eternity.
Our group logo was put to a vote by our members on Facebook, and we received an astounding 1,000 votes. After some adjustments and merging of designs, we were finally able to come up with a winner.
The old ship design was a unanimous choice as it reminded everyone of our city's rich shipbuilding heritage, the iconic bridges over the River
Wear, and our well-known red and white stripes. It's great to see our community come together to create something that truly represents us. The designs that were put to vote can be seen below…….
SAFC – Forever In Our Hearts meets at:
15 Norfolk Street
Sunderland
SR1 1EA
Meeting 2pm -4pm on:
Sunday 13 August
Sunday 15th October
November Painting Pebble Event
December Candlelight Remembrance